The Sentinel "Platinum" Range

Only the very best for the
world's leading storage facilities
TOTAL facility control, anywhere, anytime
Designed to expand as you do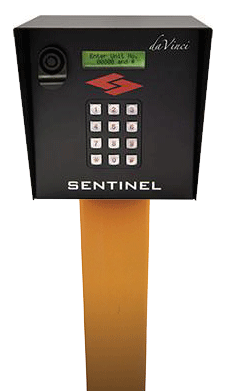 The DaVinci Keypad
The latest daVinci model keypads are designed to retain all valid tenant codes and operate with your PC on or offline

Complete facility automation
Sentinel Platinum allows for complete , customizable,  'event driven' facility automation.  Trigger alarms, lighting, elevators, security call centers, electric fences .. & much more.
[expand title="Read More …."]
A Lighting Control Module controls lighting (or any other relay controlled device) in response to tenant activity and/or the time of day. This gives you the ability to have lighting fixtures come on automatically when a tenant enters, then be turned off after a user-configurable delay after they leave. If necessary, lighting fixtures can be controlled by time zones so they stay off during the day.
Automatically control lighting in up to 64 Zones
Turn on Lights when Tenant enters Passcode
Turn of Lights when the last tenant has left
Individual control for hallway's, driveway's and other common areas
Control lights by building and floor
Can be time controlled manually
Easily add and configure zones
Emergency mode to turn on all lights for police and fire
Integrated software control allows easy configuration
[/expand]
Individual Door Alarms
Alarms for each individual unit door , including automatic arm / rearm with the Sentinel Platinum access control software, and alerts to your phone / email.
[expand title="Read More …."]
Studies show that most thefts at a self-storage facility are committed by tenants. Have the ability to monitor each unit on a an individual basis gives you the power to protect your tenants and their valuables and to rent for an average of 5 to 12% more.
Automatic arm / rearm with the Sentinel Platinum software
Over 2,000 point monitoring
Multiple unit arm / disarm with a single code
Multiple output relays for triggering various devices when alarm occurs
Intuitive programming menus for simple on-site changes
Continuous polling provides a high level of system reliability
Customizable activity reporting
Supports normally open and normally closed switch types
[/expand]
Sentinel Platinum Access Software
The latest Sentinel software provides you with your own private "Cloud" platform, for increased reliabiltiy & flexiblity of your access control data
[expand title="Read More …."]
Log into the property's access control system remotely using a VPN connection.
Monitor the property activity of serveral locations using a single workstation.
No cache of information held in memory, Platinum validates ALL activity through the database which raises the bar in reliability.
Owner auditing of all changes to the system configuration and tenant data.
Multiple communication ports are supported for additional access control systems.
Able to monitor and identiy multiple doors per unit.
Alarm and monitor building and hallway entrances.
Utilizes SQL Server as the database engine
The NEW platinum access control runs as a Windows service, meaning no personnel log in is required.
Offering both, current and deliquent tenant alerts
Instantly open gates or building doors remotely.
Supports non-tenant access codes.
Controls access to unattended sites, using static IP addresses.
[/expand]
Mobile app & SMS Alerts
Sentinel Platinum software provides you with complete remote control of your facility via a mobile app. Check system logs, open gates & doors … Receive an SMS anytime of the day or night for any significant events including door alarms or system failures.
[expand title="Read More …."]
Control of most Sentinel software functions by mobile
SMS and / or Email alerts to a range of facility events
Customizable alert templates
Send to multiple numbers & email addresses
[/expand]
Supported 7 days a week
Sentinel support is modeled on world-class 'managed support' services,  with rapid response to urgent technical issues or queries.
[expand title="Read More …."]
Managed support plans available
1 hour response time to urgent incidents
24 hour response to all general incidents
Speedy software fixes via TeamViewer
Friendly, personable support staff
[/expand]